If you've done any poking around on this website, you've noticed this little guy:
Hmmm. Whatever could that be?
It's something that's been in the works for the past few months, and something that I hope you will enjoy. And, if you're one of my awesome mailing list subscribers, you already know what it is.
Let's cut the fluff and get to the story behind the secrecy.
Introducing Heart of the Wood, an Inharmonic companion story!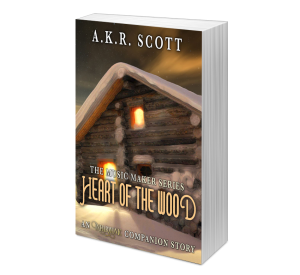 When Pax left for the Music Conservatory to pursue his dream of becoming a Master Craftsman, he also left his family in a bind. Now, home for the Candlefire Celebration, he discovers his role has been filled by a less-than-perfect replacement.
Can Pax repair his broken relationships before returning to the conservatory, or will he have to choose between his family and his dream?
Heart of the Wood is a new short story told from Pax's POV, and set during the action of Inharmonic. Though it is an Inharmonic companion story, it is spoiler-free and can be read as a stand-alone.
And the best part is, it's FREE!
Heart of the Wood will release alongside Inharmonic in just two days. But, it's only available to mailing list subscribers, so if you haven't subscribed already, click HERE to do so.
Two days! I'm so glad to finally release Inharmonic into the big, wide world, and I'm super excited to offer you even MORE story with Heart of the Wood.
Thanks for reading!